From Mobilize the Immigrant Vote!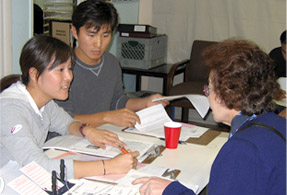 Campaign Consultant Needed
Two month contract June-Sept 2012
Bi-lingual English – Spanish skills required
Overview
Mobilize the Immigrant Vote (MIV) was started in 2004 as the first-ever statewide campaign in California to organize a multi-ethnic coalition of community-based organizations working within immigrant communities and building their capacity to register, educate, and mobilize their constituents for electoral participation.
Contract term: June 4-September 3, 2012
Location: Ideally in Los Angeles or SF Bay Area, but location is negotiable.
Specific responsibilities include
• Coordinate Campaign Logistics with partner organizations that includes helping them plan, and coordinate campaign leading to "Ramp up Week" of August 27.
• Consultant will hold nightly and Thursday calls with partners once campaign starts.
• Consultant will work with Ethnic Media consultant to implement earned media program.
• Implementn other projects as determined in the course of the contract.
Qualifications/Requirements:
Strong communication and motivational skills, work ethic, and desire for political change are essential. Candidates must have thorough understanding and experience with campaign implementation and management. Previous field or phone bank experience is a plus.
Candidates must be able to work within a team, have proven leadership ability and an orientation towards handling a lot of responsibility. Strong self-direction and the ability to take initiative are also necessary qualifications. Spanish – English bilingual is a must.
Contract amount negotiable, commensurate with experience.
Submit your qualifications, sample work product related to a campaign plan or campaign communications, 3 references and your monthly contract rate. Deadline May 30, 2012
Please submit as Word document or pdf.
Send to: Martha@mivcalifornia.org
MIV IS AN EQUAL OPPORTUNITY EMPLOYER
and strongly encourages bids from consultants with backgrounds in immigrant communities.
Attached Files:
Leave a Reply