Updates
From Mobilize the Immigrant Vote!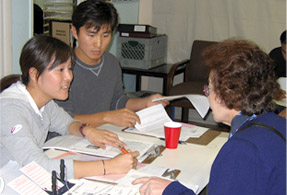 MIV is seeking a campaign consultant from June 4-September 3, 2012. Specific responsibilities include:
• Coordinate Campaign Logistics with partner organizations that includes helping them plan, and coordinate campaign leading to "Ramp up Week" of August 27.
• Consultant will hold nightly and Thursday calls with partners once campaign starts.
• Consultant will work with Ethnic Media consultant to implement earned media program.
• Implementn other projects as determined in the course of the contract.
San Francisco – Today a coalition of immigrant rights organizations released findings of its statewide survey of Asian immigrants, 85% who overwhelming support taxing the top 1%. The survey "Take Back the American Dream" was conducted through coalition partners Chinese Progressive Association (CPA), Korean Resource Center (KRC), Services, Immigrant Rights, and Education Network (SIREN) and the Filipino Advocates for Justice (FAJ) as part of the Mobilize the Immigrant Vote (MIV) coalition.
In conjunction with these findings, MIV reaffirmed its support of Governor Brown's November ballot measure that would raise taxes to help balance the budget.
"On the eve of tax day, we want to remind voters that tax revenue pays for vital services that benefit all our communities including schools, hospitals and libraries. Vietnamese voters overwhelmingly supported taxing the top 1% wealthy and corporations to help restore vital services." said Patricia Diaz, Services, Immigrant Rights and Education Network (SIREN)
In recent weeks, Americans have witnessed the execution of Troy Davis in Georgia, the occupation of Wall Street and cities across the country, some of the most anti-immigrant legislation to date in Alabama, and hopeful immigrant rights legislation in California for education access, changes to car impound policies, and recognition of the diversity of the Asian Pacific Islander community. At home in California, grassroots leaders across the state in multiple coalitions are engaging voters in critical policy campaigns and building momentum towards 2012, with some high profile local races including this November's election to decide the next Mayor of San Francisco. At MIV, we launched our Take Back the American Dream Campaign with a six-region campaign to engage voters around a values message of reclaiming the promise of this country and uniting around tax and fiscal reform solutions. The preliminary results of our 2010 Treatment and Control Study are now available. We hope the following updates are useful to your work and look forward to future opportunities for collaboration.
In 2012, California expects a series of ballot initiatives that will again have major impact on the state and have ripple effects across the country. Organizations across California are collaborating on how to move tax and fiscal reform measures through the ballot box. In this issue, we focus on the statewide efforts to repeal the death penalty in California.

MIV is thrilled to welcome long-time partner and ally, Chinese Progressive Association (CPA), to the MIV Statewide Strategy Council. Founded in 1972, the Chinese Progressive Association educates, organizes and empowers the low income and working class immigrant Chinese community in San Francisco to build collective power with other oppressed communities to demand better living and working conditions and justice for all people. We would also like to share the newest additions to MIV's senior statewide staff team: Martha Figueroa, Political Director, and Rebecca Concepcion Apostol, Capacity Building Manager.